Welcome to Canaccess Immigration Specialists: your one-stop arrangement for all your movement & settling overseas needs. We have a record proven history for PR and other Visas to the Canada, Australia and US governments within the pathways reasonable for your profiles and assist you in your work look in these nations. The authorized Canadian immigration specialist Mr. Mohit Ghai https://canaccessimmigration.com/mr-mohit-ghai/ of Canaccess Immigration Services https://canaccessimmigration.com/are taught overseas and have lived in Canada and the US and know the minutest complexities of the immigration matters and think about overseas processes and subsequently get you the best, efficient and time-bound results.
WHY CANACCESS IMMIGRATION – MR. MOHIT GHAI
Canaccess Immigration are the top immigration consultants in India and are the top rated in Punjab and other cities due the fact that we share the immigration knowledge and expertise in your first interaction itself in the most uncomplicated manner.Seeking and hiring a certified consultant can make the immigration process hassle-free. Applying for a visa can be both time consuming and an expensive affair. Hiring an immigration consultant saves you both time and money. Even a small error on your application can result in visa rejection, which, in turn, leads to delays and a loss of total payment. As such, hiring a consultant can guide you through the application process, ensuring that you fill out all the aspects of the forms correctly.
WHY ICCRC ?
ICCRC now named as CICC is the national regulatory authority designated by the Government of Canada to safeguard consumers who seek Canadian immigration advice and representation from immigration consultants. Federal law requires that immigration consultants in Canada or abroad, who provide Canadian immigration services for a fee, must be registered with ICCRC and accredited as Regulated Canadian Immigration Consultants (RCICs).
WHY MR. MOHIT GHAI ?
Mr. Mohit Ghai – Regulated Canadian Immigration Consultant
After fulfilling many requirements and obligations Mr. Mohit Ghai has become a regulated immigration consultant and  is a member of Immigration Consultants of Canada Regulatory Council (ICCRC)  with License #R508662. He gives immigration related advice. He has the responsibility right from clearing the doubts of prospecting clients about why, where and how they should immigrate to Canada. Mr.Mohit Ghai and his company Canaccess Immigration is also approved by Government Of Saskatchewan  License#00428 as an approved consultant and a job recruiter.
Where We Build Your Visions
Can Access Immigration(CIS) offers a broad portfolio of exquisitely managed pre-flight to post landing services acclimated to the exigencies of each client. We have developed the entire business model, one of its own kind,to provide one-stop package of services to make an individual's transition to a new land completely hassle-free. A combination of extensive experience, global presence and profound industry knowledge empowers us to provide result oriented solutions.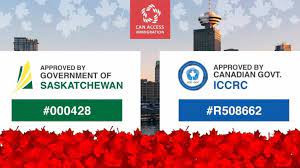 India Top most consultant -ICCRC APPROVED
Express Entry Program
The Canada Express Entry Program is a points-based immigration program for professionals looking to settle in Canada. It awards points to professionals based on skills, experience, Canadian employment status and provincial/territorial nomination.
Provincial Nominee Program (PNP)
Canada's provincial nominee programs (PNPs) offer a pathway to Canadian permanent residence for individuals who are interested in immigrating to a specific Canadian province or territory. Each Canadian province and territory operates its own PNP designed to meet its specific economic and demographic needs.
Business Immigration Program
The Business Immigration Program is designed to encourage and facilitate the admission of these individuals. Both the federal and provincial/territorial governments welcome business immigrants and offer services to help immigrants start a business and settle in Canada.
Family Class Immigration
The Family Class Sponsorship Program reunites families by enabling adult permanent residents or citizens to sponsor a relative for immigration to Canada. To be eligible, the person seeking sponsorship must be a: Spouse, common-law or conjugal partner. Dependent child.
Canadian Experience Class Immigration
The Canadian Experience Class (CEC) is an immigration program that allows individuals who have worked in Canada for at least one year to immigrate permanently. The government of Canada recognizes the deep pool of talented workers already working in Canada, and wants them to become permanent residents.
For more information visit us at https://canaccessimmigration.com/ or https://canaccessimmigration.com/mr-mohit-ghai/
Our goal is to provide best quality legal immigration solutions to Canada,Australia,New Zealand,U.K,Singapore
Contact us NOW at https://canaccessimmigration.com/contact-us/
Enquire NOW https://canaccessimmigration.com/enquiry-form/
OUR KEY AREAS OF WORK
NOC search as per the Skill in Demand
CRS Points Calculation
PNP Eligibility Points Calculation
Drafting Reference Letters
Documenting Proof of Settlement Funds
Explanation Letters & Affidavits
Police Clearance Certificates
Medical Tests
Job Bank Registration
Bio-metrics Appointment
Visa Stamping
Refusal Appeals
The Visa application process differs from one person to another and from one pathway to another, hence our service is customized to the client need .